Features

Standard pressure upto 6000 psig, optional pressure upto 10000 psig.
Derlin seat standard for easier replacement also available in PEEK, PTFE & KEL-F.
Non rotating vee / Ball tip design which forms a bearing joint with the stem eliminates rotation between plug & seat at closure, This prevents scoring and galling up the valve seat and ensure long life in repetitive shut off service.
Safety bonnet lock prevents accidental disassembly.
Stem thread rolled & hard plated for additional strength & maximum service life.
Mirror finish stem, Furnished to a 16RMS extends packing life and smooth stem operation.
Adjustable packing below stem threads prevents stem lubrication washout and isolate threads from process contamination.
Safety back seating provides secondary stem seal in full open position, prevents stem blow out.
Stainless steel handle for proper actuation.
Body to bonnet seal metal to metal constant compression, isolate bonnet threads from system fluids and eliminates possible tensile.
Dust cap prevents contaminants and lubricant washout of bonnet assembly.
Panel Mounting Option Available.
Testing
Each valve is 100% tested in accordance with MSS-SP-99. This procedure includes testing of the body cavity. Hydrostatic test is performed with pure water or other liquids of similar or lower viscosity at 1.5 times and seat leakage test at 1.1 times of the maximum working pressure.

Each valve is also tested with Nitrogen Gas / Air at 100 psi for seat, seal and shell leakage. Other tests like Vibration, Temperature, Helium are available upon request.

100% Material Traceability.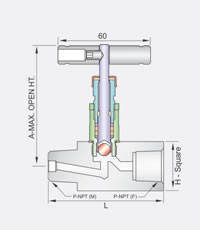 Hard Seat Needle Valve (Male x Female)
Part.No
P(M/F)
L
H-SQUARE
A-OP
PNV-SB-H-S-04-MF
1/4"
60
27
93.5
PNV-SB-H-H-06-MF
3/8"
60
27
93.5
PNV-SB-H-S-08-MF
1/2"
80
32
96.5
PNV-SB-H-S-M20-MF
M20 X 1.5
80
32
96.5
PNV-SB-H-S-12-MF
3/4"
95
42
117
PNV-SB-H-S-16-MF
1"
100
45
118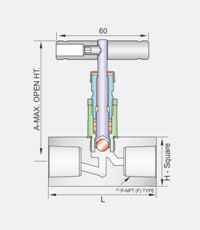 Hard Seat Needle Valve (Female x Female)
Part.No.
P(F/F)
L
H-SQUARE
A-OP
PNV-SB-H-S-04-FF
1/4"
55
27
93.5
PNV-SB-H-S-06-FF
3/8"
55
27
93.5
PNV-SB-H-S-08-FF
1/2"
75
32
96.5
PNV-SB-H-S-M20-FF
M20 X 1.5
75
32
96.5
PNV-SB-H-S-12-FF
3/4"
80
42
117
PNV-SB-H-S-16-FF
1"
95
45
119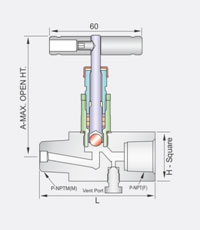 Hard Seat Block & Bleed Valve (Male x Female)
Part.No.
P(M)
P(F)
L
H-SQUARE
A-OP
PBB-SB-H-S-04-MF
1/4"
1/4"
70
27
93.5
PBB-SB-H-S-06-MF
3/8"
3/8"
70
27
93.5
PBB-SB-H-S-08-MF
1/2"
1/2"
85
32
96.5
PBB-SB-H-S-M20-MF
M20 X 1.5
20
85
32
96.5
PBB-SB-H-S-128-MF
3/4"
1/2"
85
32
96.5
PBB-SB-H-S-12-MF
3/4"
3/4"
100
42
117
PBB-SB-H-S-16-FF
1"
1"
110
45
119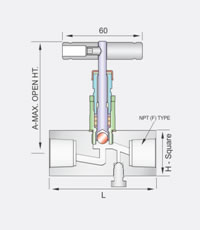 Hard Seat Block & Bleed Valve (Female x Female)
Part.No.
P(F/F)
L
SQUARE
A-OP
PBB-SB-H-S-04-FF
1/4"
65
27
93.5
PBB-SB-H-S-06-FFF
3/8"
65
27
93.5
PBB-SB-H-S-08-FF
1/2"
80
32
96.5
PBB-SB-H-S-M20-FF
M20 X 1.5
80
32
96.5
PBB-SB-H-S-12-FF
3/4"
90
42
117
PBB-SB-H-S-16-FF
1"
100
45
119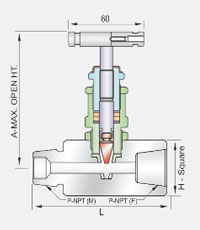 Soft Seat Needle Valve (Male x Female)
Part.No.
P(M/F)
L
H-SQUARE
A-OP
PNV-SB-S-S-04-MF
1/4"
60
27
93.5
PNV-SB-S-S-06-MF
3/8"
60
27
93.5
PNV-SB-S-S-08-MF
1/2"
80
32
96.5
PNV-SB-S-S-M20-MF
M20 X 1.5
80
32
96.5
PNV-SB-S-S-12-MF
3/4"
95
42
117
PNV-SB-S-S-16-MF
1"
100
45
118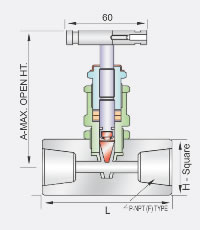 Soft Seat Needle Valve ( Female x Female)
Part.No.
P(F/F)
L
H-SQUARE
A-OP
PNV-SB-S-S-04-FF
1/4"
55
27
93.5
PNV-SB-S-S-06-FF
3/8"
55
27
93.5
PNV-SB-S-S-08-FF
1/2"
75
32
96.5
PNV-SB-S-S-M20-FF
M20 X 1.5
75
32
96.5
PNV-SB-S-S-12-FF
3/4"
80
42
117
PNV-SB-S-S-16-FF
1"
95
45
119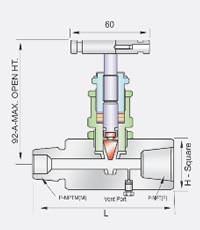 Soft Seat Block & Bleed Valve (Male x Female)
Part.No.
P(M)
P(F)
L
H-SQUARE
A-OP
PBB-SB-S-S-04-MF
1/4"
1/4"
70
27
93.5
PBB-SB-S-S-06-MF
3/8"
3/8"
70
27
93.5
PBB-SB-S-S-08-MF
1/2"
1/2"
85
32
96.5
PBB-SB-S-S-M20-MF
M20 X 1.5
M20 X 1.5
85
32
96.5
PBB-SB-S-S-128-MF
3/4"
1/2"
85
32
96.5
PBB-SB-S-S-12-MF
3/4"
3/4"
100
42
117
PBB-SB-S-S-16-FF
1"
1"
110
45
119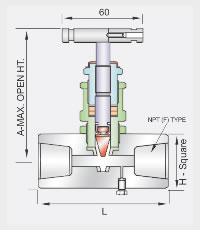 Soft Seat Block & Bleed Valve (Female x Female)
Part.No.
P(F/F)
L
SQUARE
A-OP
PBB-SB-S-S-04-FF
1/4"
65
27
93.5
PBB-SB-S-S-06-FF
3/8"
65
27
93.5
PBB-SB-S-S-08-FF
1/2"
80
32
96.5
PBB-SB-S-S-M20-FF
M20 X 1.5
80
32
96.5
PBB-SB-S-S-12-FF
3/4"
90
42
117
PBB-SB-S-S-16-FF
1"
100
45
119
Prooduct Range