One piece body construction no welding - For high strength and full safety.
Vee tip design - Controls accurate flow.
Stem threads rolled & hard plated - Provides additional strength & maximum service life.
Mirror finish stem, ffurnished to a 16 RMS - Extends packing life and smooth stem operation.
Stainless steel handle - For proper actuation.
Dust cap - Prevents contaminants and lubricant washout of bonnet assembly.
Testing
Each valve is hydrostatically tested in accordance with MSS-SP-99. This procedure includes testing of the body cavity. Hydrostatic test is performed with pure water or other liquids of similar or lower viscosity at 1.5 times and seat leakage test at 1.1 times of the maximum working pressure. Each valve is also tested with Nitrogen Gas at 1000 psi for seat, seal and shell leakage. Other tests like Vibration, Temperature, Helium are available upon request.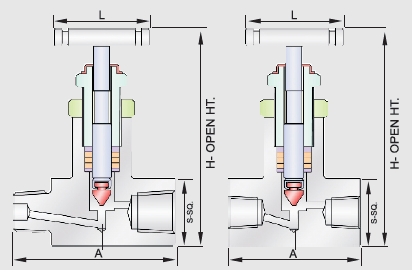 Dimension
Part.No.
Size
A(MF)
A(FF)
S-SQ
H
L
PNV-HP-S-4-MF
PNV-HP-S-4-FF
1/4"
60
55
25
86
60
PNV-HP-S-6-MF
PNV-HP-S-6-FF
3/8"
60
55
28
86
60
PNV-HP-S-8-MF
PNV-HP-S-8-FF
1/2"
82
75
34
98
70
PNV-HP-S-12-MF
PNV-HP-S-12-FF
3/4"
87
80
38
98
70
Prooduct Range